Koshkonong Weekly School Calendar October 4-11, 2021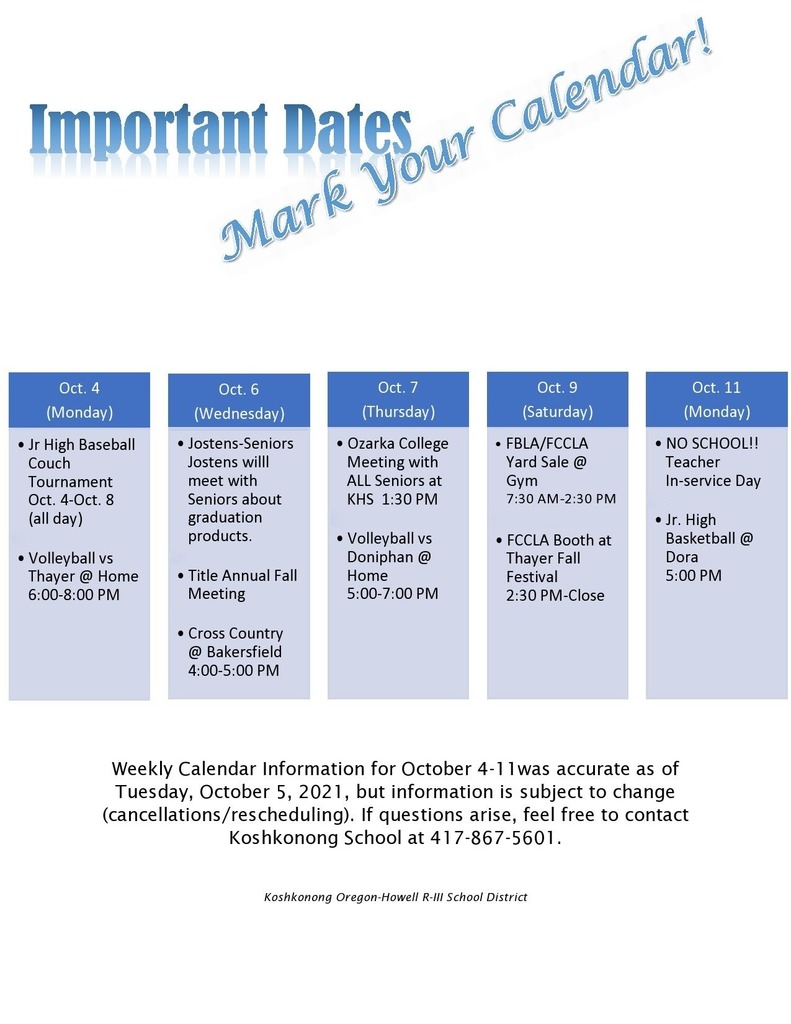 Ozarka College Meeting at KHS for ALL Seniors on Thursday, October 7th at 1:30 p.m. All Seniors should plan to attend. See flyer for more information!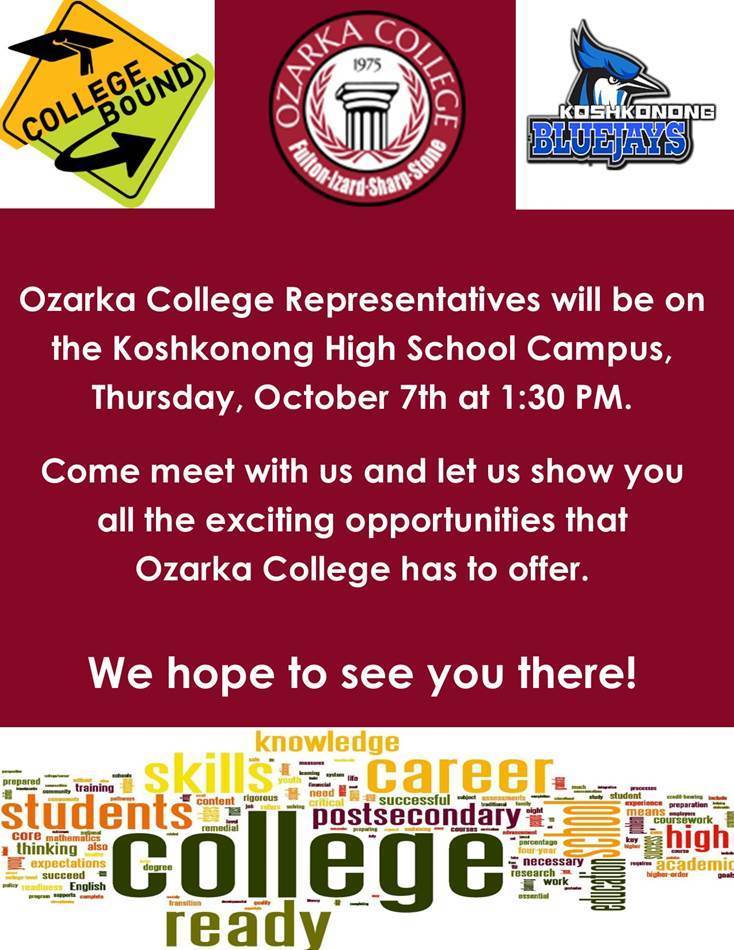 Baseball game with Eminence will not be played this afternoon (9/30/21).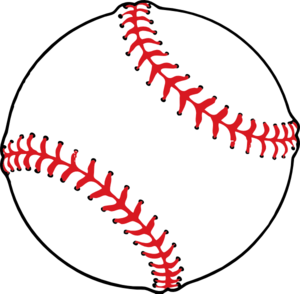 Koshkonong School Weekly Calendar

The Jr High Basketball game with Gatewood on Monday, September 27th will be a boys' game ONLY. The girls will have practice from 3:30pm to 5:00pm.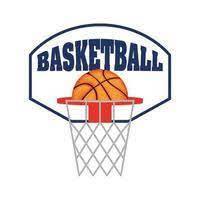 Baseball Game with Eminence for today (9/21/21) has been cancelled.

Oregon Howell R3 School is offering FREE meals to all enrolled students/children ages 18 and under through the COVID-19: Child Nutrition Response #85 Nationwide Waiver to Allow the Seamless Summer Option through School Year 2021-2022! This includes breakfast and lunch! You will not receive a lunch bill this year EXCEPT if you owe for a previous year.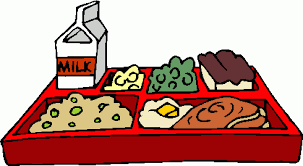 We are excited to announce that Mrs. Valerie Pitts is our new Parents as Teachers (PAT) instructor! PAT is for families with children that are prenatal to Age 5. The mission of PAT is to provide the information, support and encouragement to parents to help their children develop optimally during the crucial early years of life. If you would like more information or to enroll in the Koshkonong PAT program, please contact Mrs. Pitts at (417)501-5579 or
vpitts@koshk12.org
.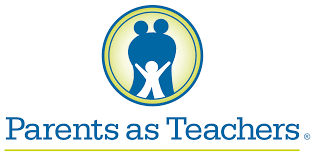 The JR. High Softball game today (917/21) with Junction Hill has been cancelled.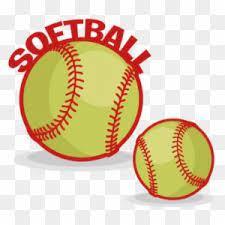 No School on Monday, September20, 2021 for teacher in-service.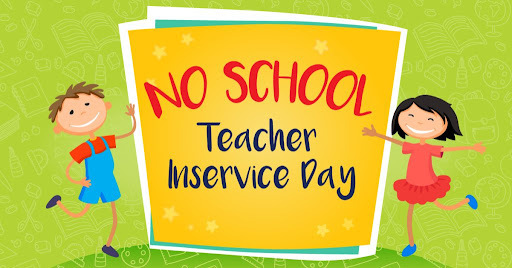 The Oregon Howell RIII School District is an equal opportunity employer and is currently accepting applications for the position for a full time bus driver and a substitute bus driver for the remainder of the 2021-2022 school year. Anyone interested should inquire at the Superintendent's office Monday-Friday (8:30- 3:30).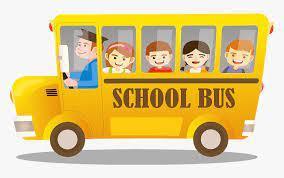 Substitute teachers needed. Applications can be found at
www.koshkonongshool.org
or at the Elementary office. Must pass a fingerprint/background check. We are currently paying $100/per day for substitute teachers!!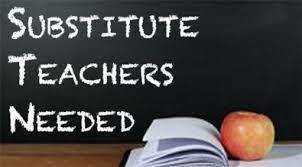 No School on Monday, September 6th for Labor Day!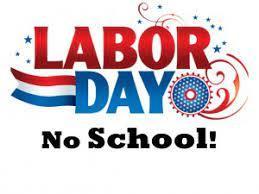 There are 3 cows located near the bus barn here on Koshkonong School Campus. If these are yours please contact the school at 417-867-5601. Thank you!!

We have a few announcements that we wanted to get out to everyone concerning the first day of school which will be Monday, August 23rd: -Drop off for students is no earlier than 7:30 . The Elementary/Middle School's day is 7:55am to 3:16pm. The High School's day is 8:10am to 3:16pm. -Pk-4th grade will enter the front door of the Elementary building and will report to their class. -5th grade thru 8th grade students enter the front door of the Middle School unless they wish to eat breakfast. Any 5th-8th grade student wanting to eat breakfast will go to the cafeteria first and then report to their classroom. -High School students wanting to eat breakfast will need to go to the cafeteria first before reporting to their homeroom. All homerooms will be posted in the main high school building. -Temperatures will be taken at the front door of the Elementary, Middle School, and High School…..please do your best to practice social distancing while you are waiting to enter the building. -The school day ends at 3:16. If you are picking up your child, please park in the parking lot in front of the Middle School and we will bring your child out to the sidewalk in front of the middle school. -We are asking that no visitors enter the buildings at this time. Thanks again for all your understanding during this time! We can't wait to begin the 2021-2022 school year with our kids!!!!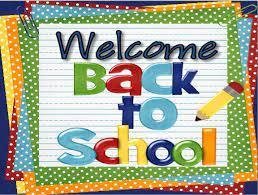 Koshkonong Volleyball is excited to announce we are participating in the Thayer Jamboree on August 21st. The team has been asked to meet at the Koshkonong gym at 4p.m. Coach Collins and I are excited for the season to start!! Let's have a great season and support our Lady Jay Volleyball Team!!
Due to rain in the forecast Jr. High Softball practice will be cancelled today, Wednesday August 17th. Next practice will be Monday, August 23rd from 3:30-5.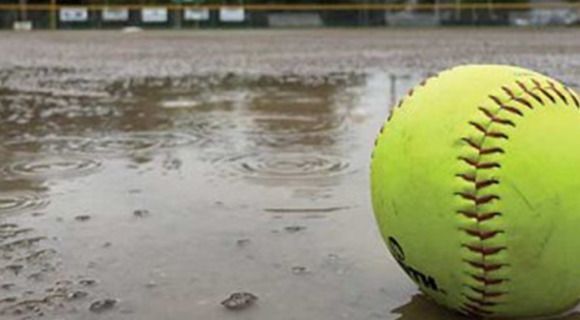 A representative of Ozarka College will be in the Media Center on Thursday, August 19th from 6:00 pm. to 7:30 pm for any high school student that is interested in Dual Credit classes for the 2021-2022 school year.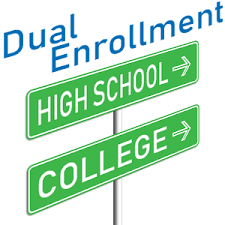 Open House will be on Thursday, August 19 from 6:00 p.m. to 7:30 p.m. for new students to the district or new students to the building (i.e. 5th grade and freshmen).